VARANASI TOUR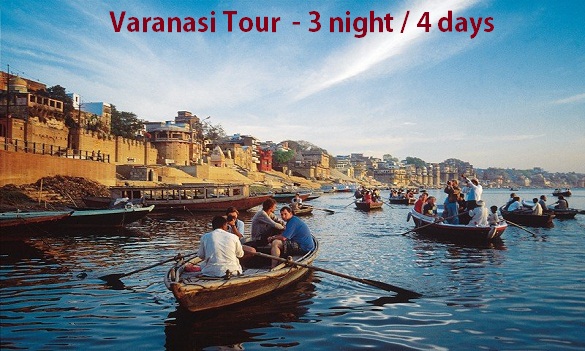 Day 01 - Arrival transfer from Varanasi Airport / Station to hotel
Varanasi, also known as Benares, Banaras, or Kashi, is the holiest of the seven sacred cities (Sapta Puri) in Hinduism and Jainism, and played an important role in the development of Buddhism. Hindus believe that death at Varanasi brings salvation. It is one of the oldest continuously inhabited cities in the world. Varanasi is also known as the favourite city of the Hindu deity Lord Shiva. Varanasi is also famous for housing numerous temples. Several temples in Varanasi have great religious and historical importance in Hinduism. There are many temples, erected at different times throughout the history of Varanasi. Some of the popular temples are listed herein. In varanasi you will visit the most famous temple such as Bharat mata madir (Mother india temple ) Durga temple, Tulsi manas temple, Sankat mochan temple , Banaras hindu University, New Kashi vishwanath temple(also known as Birla temple ). Later in the Evening visit Aarti ceremony, Experience the beautiful Hindu ritual Aarti on this evening tour in Varanasi, where Hindu mythology says the soul is liberated from the body. You'll learn about the combination of physical, metaphysical, and supernatural elements as you listen to religious songs sung in praise of the gods and watch lamps being raised into the sky on the River Ganges.O/night stay at hotel.
Day 02 – Boat ride
Early morning boat ride at river ganga ,Boating down the Ganges River during sunrise is one of the main attractions in Varanasi. We can observe here the Hindu way of life along the banks of the Ganges (Ghats) River. Start your day with a morning boat ride at dawn. You have a chance to observe the Hindu way of life along the bank of the Ganges River (Ganga Ghat or Banaras Ghat). Varanasi presents a unique combination of physical, metaphysical and supernatural elements. According to the Hindu mythology. In the afternoon visit Sarnath, Sarnath is a city located 13 kilometres north-east of Varanasi near the confluence of the Ganges and the Varuna rivers in Uttar Pradesh, India. The deer park in Sarnath is where Gautama Buddha first taught the Dharma, and where the Buddhist Sangha came into existence through the enlightenment of Kondanna. Singhpur, a village approximately one kilometre away from the site, was the birthplace of Shreyansanath, the Eleventh Tirthankara of Jainism, and a temple dedicated to him, is an important pilgrimage site. Also referred to as Isipatana, this city is mentioned by the Buddha as one of the four places of pilgrimage to which his devout followers should visit, if they wanted to visit a place for that reason. It was also the site of the Buddha's Dhammacakkappavattana Sutta, which was his first teaching after attaining enlightenment, in which he taught the four noble truths and the teachings associated with it. O/night stay at hotel.
Day 03 – Morning after breakfast proceed for RAMNAGAR
Ramnagar
The Ramnagar Fort is a fortification in Ramnagar, Varanasi, India. It is located near the Ganga River on its eastern bank, opposite to the Tulsi Ghat. The sandstone structure was built in the Mughal style in 1750 by Kashi Naresh Raja Balwant Singh. At present, the fort is not in a good shape. It has been the home of Kashi Naresh since the eighteenth century. The current king and the resident of the fort is Pelu bhiru Singh, who is also known as the Maharaja of Varanasi even though this royal title has been abolished since 1971. O/night stay at hotel.
Day 04 - Morning after breakfast Deaparture transfer from Varanasi hotel to Airport/ Station.
Inclusion
1 - A/c Innova Inlusive of parking as per above itinerary.
2 - Hotel 3* 2 double room on CPAI basis.
3 - Boat ride in the morning.
4 - Site visit as per itinerary

Exclusion
1 - Tour guide
2 - Entrance fee